Museum Building
Science On A Sphere Show
Science Park
Sky Observation Programme
Mobile Science Exhibition
Welcome to Raman Science Centre, Nagpur
The Raman Science Centre Nagpur is an interactive science center affiliated with Nehru Science Centre Mumbai. The center was developed to promote a scientific attitude, portray the growth of science and technology and their applications in industry and human welfare, and hold science exhibits. The centre is named after famous Nobel Prize winner Indian physicist Chandrasekhara Venkata Raman. The Raman Science Centre was inaugurated on 7 March 1992 and the planetarium was started on 5 January 1997.
It is an exciting world on the bank of Gandhi Sagar. Here Science is no more a subject but an experience. Here science is a thing to play with & learn. Here one is free to spend a whole day in play with hands-on exhibits-press lever, turn wheels, roll balls, pull strings, press the buttons, look through the peepholes to make science work & enjoy. One can discover that, here concept of science is different: It is sheer fun.
During the Diwali festival on October 25, city with other parts of the country witnessed a partial solar eclipse. During the new moon (Amavasya) the Sun, Moon and Earth almost come in a linear configuration, whereby from earth we can see the moon without any sunlight falling on it.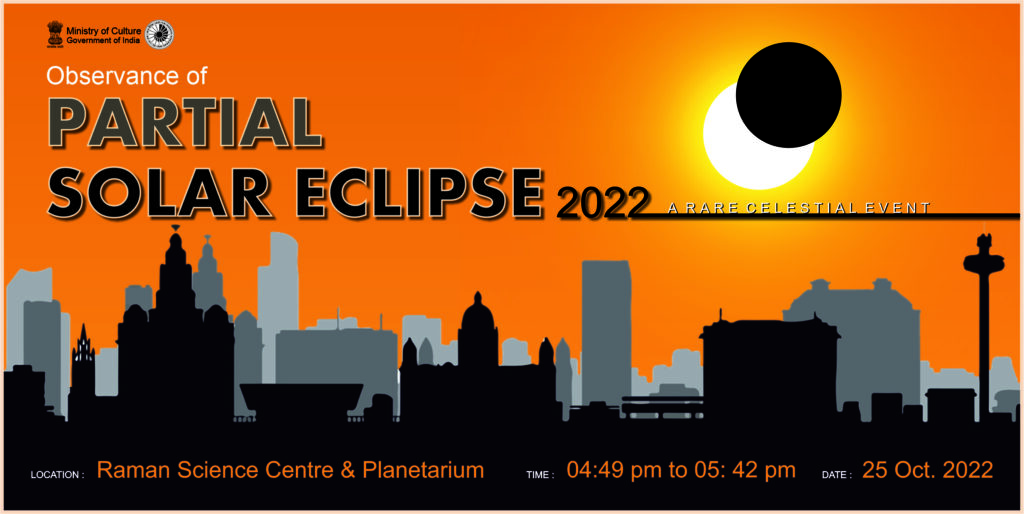 9th Science Expo is scheduled to be organized at this centre in the month of December, 2022 in collaboration with different scientific organisations in Nagpur & other places. These organisations will be showcasing their research achievements in this expo. Raman Science Centre & Planetarium is open for visitors every day from 9.30 am to 6.00 pm open on Saturday & Sunday also.