Museum Building
Science On A Sphere Show
Science Park
Sky Observation Programme
Mobile Science Exhibition
Welcome to Raman Science Centre, Nagpur
The Raman Science Centre Nagpur is an interactive science center affiliated with Nehru Science Centre Mumbai. The center was developed to promote a scientific attitude, portray the growth of science and technology and their applications in industry and human welfare, and hold science exhibits. The centre is named after famous Nobel Prize winner Indian physicist Chandrasekhara Venkata Raman. The Raman Science Centre was inaugurated on 7 March 1992 and the planetarium was started on 5 January 1997.
It is an exciting world on the bank of Gandhi Sagar. Here Science is no more a subject but an experience. Here science is a thing to play with & learn. Here one is free to spend a whole day in play with hands-on exhibits-press lever, turn wheels, roll balls, pull strings, press the buttons, look through the peepholes to make science work & enjoy. One can discover that, here concept of science is different: It is sheer fun.
Science Museum School Program
The Centre has launched Science Museum School Program for this year from yesterday. 40 underprivileged students of class 5th from Maharashtra Adhayanmandir School were attended the session on 'Solar System', a part of their syllabus. They will visit our Centre every Tuesday throughout this academic year to learn science in the syllabus. The project is funded by Nishchay Foundation.
As the four bright planets (Venus, Saturn, Jupiter and Mars) occupied the evening sky in last month along with the Moon, RSCN had organised an 'Astro-Excursion' package tour for its esteemed visitors includes Science on Sphere show, Planetarium show and Sky observation programme during 24-31 January 2023. 
RSCN had organised Mobile Science Exhibition on theme 'Vaccines Injecting Hope' at Delhi Public School, Kamptee Road, Nagpur & Delhi Public School, Mihan, Nagpur
International Travelling Exhibition "Vaccines Injecting Hope"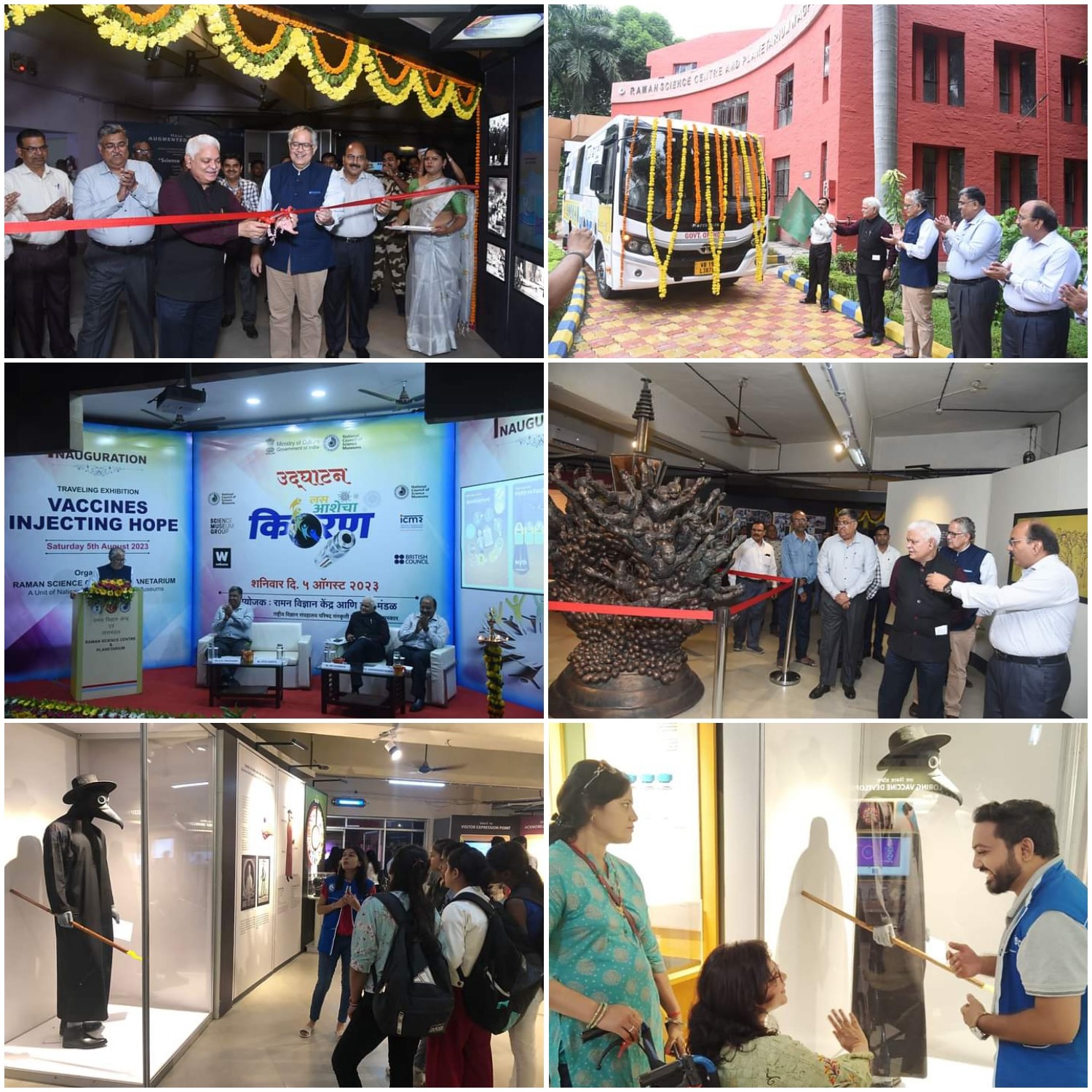 National Council of Science Museums (NCSM) and Science Museum Group, London have joined hands to tell the story of the global effort to develop vaccines at pandemic speed
The exhibition will tour five venues across India namely Delhi, Nagpur, Mumbai, Bengaluru and Kolkata till September 2025 and is expected to reach out to more than 2 million people.
The exhibition has been made possible with support from Wellcome, UK, ICMR, India and other research and scientific organisations in India.
A specially designed Mobile Science Exhibition Bus will travel to nearby areas of each venue to raise awareness about the importance of vaccines in saving human lives.
The exhibition will showcase an art installation commissioned by the British Council as part of the India/UK Together Season of Culture.
Vaccine Trivia – Smallpox, a highly contagious and deadly viral disease, was successfully eradicated from India through a concerted effort led by the Indian Government in collaboration with international organizations such as the World Health Organization (WHO). The smallpox eradication efforts in India includes mass vaccination campaigns, surveillance and rapid response, containment and isolation, intensive vaccination in outbreak areas, health worker training, community engagement etc. Over time, these efforts led to a dramatic decline in smallpox cases in India. The last known case of naturally occurring smallpox in India was reported in 1975. Subsequently, the country was officially declared free of smallpox by the WHO in 1977. The successful eradication of smallpox in India serves as a testament to the effectiveness of vaccination, surveillance, and international collaboration in tackling infectious diseases. It also highlights the importance of determined efforts and the dedication of healthcare workers and officials in achieving public health milestones. International traveling exhibition 'Vaccine Injecting Hope' is on display at Raman Science Centre and Planetarium, Nagpur from 5 August to 31 December 2023 from 9.30 am to 6.00 pm. Please visit the exhibition and communicate the message to your near and dear ones.
Hall of Augmented Reality at RSC Nagpur
A number of technologies emerging into the market to shape up the growth of the World across all nations. Under this purview we at Raman Science Centre, Nagpur have put up an effort to demonstrate nitty gritty of Augmented Reality with the help of Interactive and Immersive exhibits to make people understand its importance and applications in the days to come.
https://www.epidemicsound.com/music/genres/acoustic/
Raman Science Centre & Planetarium is open for visitors every day from 9.30 am to 6.00 pm open on Saturday & Sunday also.